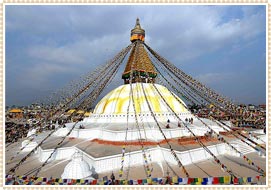 Nepal, the adobe of snow, is one of the most picturesque regions in the world. In the northern part, you have lofty mountains almost talking to the sky and in the south stretches the limitless lands of grass, as far as horizon. Between them lies the kingdom of Nepal, the land of temples and pagodas.
The Kingdom of Nepal offers different genres of attraction for the visitors. On one hand you have Buddhist heritage sites that attract tourists from Indo-China region and on other hand there are famous Hindu temples that are very popular among Indians. Both of them attract droves of westerners. These include casual tourists as well as researchers. Then there are palaces erected by the various dynasties in Nepal. These places are famous for their distinct architecture and decoration works.
Among the Buddhist sites, the ones that are in Kathmandu will catch your fancy. Boudhnath Stupa, Machendranath Stupa and Swambhunath are some of the popular Stupas in Kathmandu. There are other Stupas too. The one called Muktinath is very popular among the followers of Mahayana sect of Buddhism. Besides, you have various smaller Stupas and monasteries at Lumbini, The birthplace of Gautam Buddha.
Among the temples, Pashupatinath attracts the major chunk of visitors. This temple is not only the most famous temple in Nepal but considered among the most famous in the world. The place has a mystic touch in itself. Apart from that you have Guhyeswar temple in Kathmandu. This temple is dedicated to Parvati, the wife of lord Shiva. There are other minor temples too. Most of them are located in the Tarai region. The one in Janakpur is notable for its decoration and historical value.
When it comes to palaces, Kathmandu can give any city a run for its money. The most famous among these palaces is the Narayanhiti Palace that also known as Royal Palace among the visitors. The monarch currently inhabits the palace. Then there are palaces built by different Rana Prime-ministers. The architecture of these palaces varies from palace to palace. Most of these are based on fusion architecture styles. Apart from that, Nepal offers various minor attractions such as Biratnagar, Janakpur and Bhaktapur. All these places have their distinct flavors.
This is just a glimpse of what Nepal is going to offer you. And that is not all. All these will be served with traditional Nepalese hospitality and a big smile.