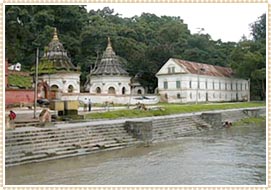 Guhyeshwari Temple is one of the holiest shrines of Hindus. It is one of the revered holy temples in Kathmandu, Nepal. Located near the Pashupatinath temple, Guhyeshwari represents the female force.
This temple is dedicated to Goddess Parvati. The legend goes by that once Parvati, Hindu goddess and wife of Shiva, was upset with something and decided to end her life. When Shiva was out for somewhere, she burnt herself to death. When lord Shiva returned he was full of remorse. It is believed that Lord Shiva wandered the world carrying the body of Sati Devi. During this process her yoni, the female sexual organ, fell at this place. A small cenotaph was build by some villagers at that place. In the due course the villagers started to worship that figure. King Pratap Malla built the present temple in the early 17th century.
The temple is built in Bhutanese Pagoda style and looks fragile. The temple is pretty ordinary in terms of architecture and does not attract. Nevertheless, the main sanctum is beautifully decorated with flower motifs. The name of the temple originates from words "Guhya" (vagina) and "Ishwari" (goddess). The temple symbolizes the harmony between male and female force of creation. Non-Hindus are not allowed to enter the main sanctum of the temple. However you can appreciate the design from a distance.