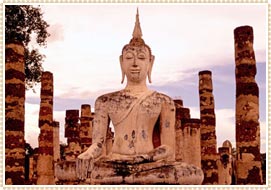 Just a short walk from the Durbar Square, lies the Maha Buddha Stupa that is also known as Mahabuddha Temple. This is the only major Stupa in Nepal that does not have Nepalese influence in its architecture. The design of the Maha Buddha Stupa is based on the Indian style Sikhara temples that are primarily built of brick. This Stupa was built during the reign of King Mahendra Malla and the year of its construction can be safely placed around1585 A.D.
It is said that Jivaraja, who was a Buddhist devotee, was the brain behind the construction of this Stupa. Jivaraja belonged to Bodh Gaya, the place that enlightened Buddha. On his journey to Nepal, he conceived an idea to build the replica of the famous Bodh Gaya temple on a relatively smaller scale. His design differs considerably from the original, however.
This monument may be said to be purely Indian in design and thus a rarity in Nepal. The details in its modeling and decoration are very Indian in nature. The Stupa is sometimes known as the, "Temple of One Thousand Buddha" because of the thousands of images of Gautam Buddha that have been painted on its inner walls. These images portray the various stages of the life of Buddha. This style, too, has been borrowed from India. The only dampener in the whole construction is the cramp courtyard that encloses the temple. It is so small that the viewer is forced to view the temple from a very close range. The effort strains the eye. The warm golden-red color of the brick stands out sharply against the blue sky on a clear sunny morning. You will also be attracted by a certain exuberance, especially in the larger figures, which gives the temple a note of excitement and movement. Another striking point is the images of Apsaras, Kings and Demons that add an aura of immediate life to this temple. This particular feature is missing from nearly all the pagodas in Nepal and Tibet.
Maha Buddha is marked by several door and windows openings along its considerable height. They allow ample light in otherwise cramped structure. Although the temple appears to be quite neglected by the public on any average day and the lamps appear to be rarely lighted, it comes to life once a year when scores of devotee come to celebrate the birth of Buddha.