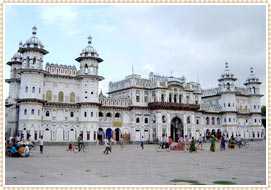 Janakpur is the birthplace of Sita, the Hindu goddess and wife of Lord Rama. It is also the capital of ancient Mithila kingdom and is the home of the unique Mithila artifacts in Nepal. Janakpur, also called Janakpur Dham, is about 135 kilometers from Kathmandu, the capital of Nepal.
The main attraction of the city is its Janaki Temple. The Temple is dedicated to Goddess Sita who was married to Rama and was the central character of the Hindu epic, Ramayana. This temple was built in 1911 and is in many aspects reminiscent of Islamic architecture. Another landmark of Janakpur are the numerous sacred ponds for ritual baths that are scattered all over the city. The 2 most important ones are close to the Janaki temple and are known as Dhanush Sagar and Ganga Sagar. Nearby is another temple that is called 'Sita-Ram vivah mandir'. The temple is said to be built at the place where Lord Rama was married to Sita. Marriage anniversary of Ram and Sita is observed every year here through a festival that is also observed throughout Nepal. The place is very popular among the Hindus all over the world.
This region is heavily influenced from the Mithila region of Bihar, a state in the eastern part of India. The place offers an excellent opportunity for visitors to learn about Mithila culture and its people. The city is famous for Mithila artifacts such as Mithila paintings and potteries. Most of these paintings have, the life history of Lord Buddha as their subject. A good Mithila painting is a must buy.