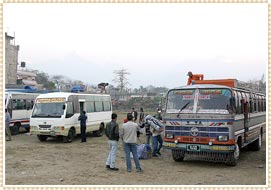 Pokhara is located in North-western Nepal close to the Indian state of Uttrakhand/Uttaranchal. Being the starting point and base camp for Himalayan expeditions, Pokhra is easily accessible. It is well connected with the network of roads and airlines.
Intra-Nepal Transportation
Mountain flight from Kathmandu to Pokhara is the best option. Riding a public bus or a taxi to Pokhara is also a good option. Public buses run daily from Kathmandu. It takes about 5 to 6 hours by bus. Buses are crowded, but that's' how Nepalese travel all life long. Remember, public buses do not have A/C or heaters and have frequent stops on the way. Taxis are expensive, probably will cost you as much as the Airfare. When you ride by land, you get to see more places, you get to enjoy the scenery that you would not be able to see from the air
Inter Country Transportation
By Road
Pokhra has a good road network. There are several land routes that you may take from India to reach Pokhra. From Sarnath and Benaras you may travel to Bahraich and via Nepalgunj reach Pokhra. There is another entry from the Indian province of Uttarakhand. There are several passes that joins Nepal with Tibet and Mainland China. These roads are in terrible shape and can only be traversed by gas-guzzler SUVs.
By Air
Pokhra does not have an international airport therefore you have no option but to break your journey at Kathmandu and take another flight.