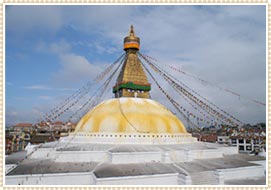 It is said that king Gun Kamdev founded Kathmandu in the year 723 AD. If you go by the legend, the area was a lake in the past. A Buddhist deity named Manjushri liked the place and wanted habitation there. The Buddhist god then bifurcated the hill to the south and allowed the water to flow out. As the water flowed out, the region became habitable. Of course, this is a Buddhist tradition and is different from the one by Hindus. The origin of the name is still unclear and historians spin new theories every other day according to their whim and fancies. Nevertheless one of the more likely theories is that it was named after Kastha-Mandap ("temple of wood" in Sanskrit). King Laxmi Narashingha Malla commissioned a pagoda carved from the single tree in 1596 and it might be possible that the same pagoda is behind its naming.
The Kathmandu valley consists of 3 historic, artistic and cultural towns namely Kathmandu, Patan and Bhaktapur. The combined area of this urban agglomeration is more than 250 square miles. Kathmandu is the Mecca of Nepal's traditional culture, arts and cuisines. This is the place for rest and relaxation and don't have hectic lifestyle that has so become part and parcel of metropolitans round the world. The easy-day sightseeing takes you to various historic and artistic temples and monuments. One also enjoys Kathmandu for nightlife, shopping and for the mountain views.
The must visit sites in Kathmandu start with Pashupatinath Temple. The Hindus all over the world revere this temple that is dedicated to Lord Shiva. The ambience is very holy and is marked by burning incense sticks and religious hymns. Equally holy and magnificent is the Buddhist Pagoda of Boudhnath. The monastery is the most popular and the biggest in Nepal and attracts scores of devotees every year. Nearby is another Buddhist monument known as Machhendranath. The pagoda has a distinct architecture and is very popular among the followers of Hinyana sect of Buddhism.
Apart from religious structures you have Durbar Square that is very popular among the tourists. The area has many small but beautiful monuments that have Historical importance. Nearby is Narayanhity Palace, the home of Nepal's monarch. Though this place is out of bound for the tourists, one can very well appreciate the beauty from outside. Apart from that Kathmandu offers ample options for eateries and shopping. The place is famous for handicrafts items that can be bought for mementos and gifts. The embroidered clothes are the other must buy items.