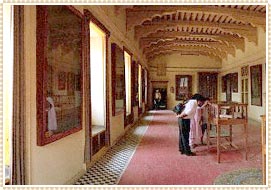 The National Art Gallery of Nepal is one of the most interesting and the must visit sites in Nepal. This gallery is located in a very beautiful palace at Bhaktapur, amidst picturesque Kathmandu valley. The palace is said to be the oldest existing palace in the entire Kathmandu valley. This Palace has more than 50 windows that open on all the four side. Apart from that, the arches and motifs are worth appreciation too.
Inside the gallery you have an impressive collection of paintings and murals from the days of dominance of Buddhism. There are some very old paintings that are known as Thangakas. Buddhist monks used these paintings for concentration at the time of prayers. These oil-on-canvas paintings are very old and dates back to Mallas era. Then there are stone-carved figures that dates back to Licchhavis and Mallas era. Most of these figures are of Hindu and Buddhist deities and, as typical of that era, have sexual overtones.
The second floor is entirely dedicated to historical chronicles and manuscripts. These documents belong to various monarchs from Rana and Shah dynasties and provide a deep insight in to the political, cultural, social and economical conditions of that era. Some of the documents are classified and are not on public display. If you are a student of history or a researcher, then this place will be of great interest. Nevertheless, researchers are required to take a prior permission from the Ministry of Culture for getting access to the classified documents.