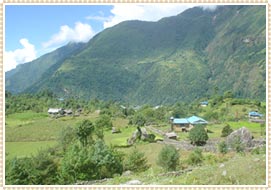 Sagarmatha National Park lies to the Northeast of Kathmandu and is the second conserved area to come up in Nepal after the Royal Chitwan National Park. The Sagarmatha National Park was conceived in the year 1976. Sagarmatha National Park covers an area of 1,148 square kilometers of the Himalayan ecological zone. The Sagarmath National Park includes the upper catchments areas of the Kosi Rivers. The park is largely composed of the rugged terrain and gorges of the high Himalayas ranging from 2,845 meters at Monju to the Mt. Everest at 8,848 meters above the sea level. Other peaks that are above 6,000 meters are Lhotse, Cho-Oyu, Thamserku, Nuptse, Amadablam, and Pumori.
As far as flora of Sagarmatha National Park is concerned, Pine and Hemlock forests dominate the vegetation at the lower elevations. But above the height of 3,500 meters, these trees give way to Silver Fir, Birch, Rhododendron and Juniper trees. Various species of Rhododendrons show their brilliant colors in spring and monsoon.
As far as Fauna of Sagarmatha National Park is concerned, the commonly seen animals comprise Himalayan Tar and Musk deer. Others include the Himalayan Black Bear, Himalayan Languor, Jackal, Weasels, Marten, and the Himalayan Mouse-hare. The park provides habitat for over 118 different species of birds. The most common ones are the Impeyan Pheasant, Blood pheasant and Red and Yellow-billed choughs. The park got its name from Mount Everest itself that is called Sagarmatha in Nepalese language. UNESCO listed the park as a World Heritage Site in the year 1979. The park is on high altitude therefore try to bring a light backpack or you will feel difficulty while trekking. Nevertheless don't forget to bring a good pair of binoculars and a really good SLR camera.