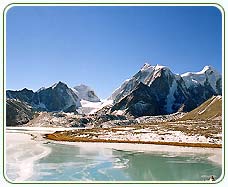 The beautiful state of Sikkim is situated in the Eastern Himalayas. Spanning 110 km from North to South and 64 km from East to West, Sikkim is one of the smallest states in India. Sikkim is cuddled between Bhutan on the east and Nepal to the west. To its north lies the high plateau of Tibet while the state of West Bengal surrounds it from South.
It is interesting to note that various ethnic groups have their own nomenclature for Sikkim – the Nepalese call it Sukhim or new home, while Tibetans refer to it as Denzong or the valley of rice and to the Lepchas, Sikkim is Nye-al-Ale or heaven.
The Himalayan state is divided into four administrative regions– East Sikkim, West Sikkim, North Sikkim and South Sikkim. The beautiful capital city of Gangtok is located in the eastern part. The salubrious climate of Sikkim attracts thousands of travellers every year. People from all parts of India and world come to Sikkim to relax in the cool climes. Sikkim is also known for various adventurous sports which also attracts adventure lovers from all over.
To showcase the best of Sikkim,we have designed various Sikkim tour packages. These tour packages have been designed keeping in mind the taste and likings of different types of people. Come and explore Sikkim with us!