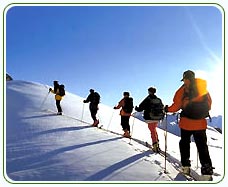 To some people, life without risk doesn't appeal much. The adventurous activities full of danger, excitement and jeopardy make a real sense to them and kind of tempt to breathe every moment of life with thrill. Sikkim is just right destination for such adventure-sport lovers. In this beautiful state of India, there are myriad adventure sports that actually send chills down one's spine. Be it mountaineering at an altitude of 14,000 ft or trekking on the craggy surface, Sikkim Adventure Sports have something for everyone.
Just imagine your dream holiday in the drizzly morning of Sikkim, trekking through the lush green mountain trails and suddenly, a pleasant sunray comes across your sight. It is really enchanting to visualize and in real, just think how beautiful it would be. Other sports like Archery, Mountain Biking, River Rafting or Yak Safari becomes an escapade for almost everyone.
Apart from the above mentioned adventure sports, Hang Gliding is another sport that the tourist deptt of Sikkim is planning to introduce. Rafting in the ice-cold waters of Sikkim, in the company of jagged routes, confirms the endurance of sportsmen. Archery is the favorite adventure of sport of Sikkimese', who have their sentiments attached with this traditional game. Click on the following links to fetch more on the adventure sports.
Sikkim River Rafting
Imagine the gushing icy waters of rivers, where you are struggling on those torrents trying to row your rafts. Undoubtedly, for a layman it is awe-inspiring and for rafting lovers, it would be really mesmerizing. The bewitching splendor of Sikkim accompanied with its frosty watercourses
Sikkim Trekking
Trekking through dense forests, craggy trails and frosty waters in the mountainous terrain really inspires one's awe. The tracks definitely would not recall roads of metropolitan cities, but an electrifying journey to experience the charismatic appeal of the natural environs.
Yak Safari
Get set to embark on a safari with a difference. You must have heard about Jeep Safari, Camel Safari and Horse Safari, but here we are offering you a Yak Safari. Yes, it is Yak Safari! A trip on the back of Yak, moving through the craggy trails, in the midst of angelic beauty of Sikkim,
Mountain Biking
To the youth, Bikes are the stuff that drives them crazy. Each one of you must have tried your impeccable driving skills at road biking, but in Sikkim we have something more interesting for you. Yes champs, you're right, it is mountain biking.
Sikkim Mountaineering
The mountains of Sikkim boast of the best natural landscape that is granted to Sikkim by the almighty. In fact, the Himalayas in Sikkim are the quintessence of the world's mountains. Being distinguished all over the globe, these Mountains are prominent for their utter splendor and exquisiteness.