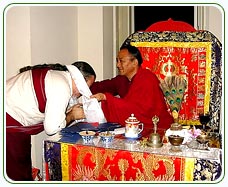 The culture of any place is often depicted through its cuisine, people, religion, language, art & crafts, music and dance. In Sikkim, you will find a perfect blend of all these attributes to make a distinct culture of its own. Not only this, Sikkim embraces a synthesis of various communities along with their practiced religions. Sikkim culture has also been imbibed from the neighboring countries without compromising on its own individuality. In this section, we have put in the various facets of Sikkim culture in the following articles.
Sikkim People
Sikkim has an interfusion of diverse communities, cultures, religions and customs. Sikkim is a fine specimen of harmony between people from different areas and regions. In Sikkim, the leading communities are the Lepchas, Bhutias and Nepalese. However, the municipal areas are dominated by the plainsmen, who have settled there, owing to their businesses and Government services.
Sikkim Cuisine
Sikkim has a blend of cultures and traditions of Nepal, India, Bhutan and Tibet. So, has the cuisine of this state. The bizarre combination of various cuisines has resulted into a specific cuisine, which is now called as cuisine of Sikkim. Today, Sikkim boasts of its own dietary culture that comprises food habits and some special recipes.
Sikkim Languages
Language is undoubtedly a crucial medium to communicate. Sikkim is a multi-lingual state, where people of many communities reside harmoniously. Nepali can be termed as the major spoken language in Sikkim. However, English is also frequently used, though it is mainly spoken in municipal areas.
Sikkim Religions
The Sikkimese are highly devout people and religions play a major role in Sikkim. Buddhism and Hinduism are the two major religions of Sikkim. Perhaps, Buddhism comes into view as the predominant religious practice in Sikkim. Though, Hinduism is the actual religion that is followed by the majority of people.
Sikkim Art and Craft
Sikkim is renowned for its dazzling and appealing beauty. The charm of this state is ever enticing and no one can remain abstain from its allure. In fact, Sikkim is resplendent with not only its natural beauty but with its art and craft too. The cultural richness of Sikkim is visible in its quality handicrafts.
Sikkim Dances
The cultural heritage of Sikkim is expressed in its traditional folk dances. Sikkim is domiciled by many ethnic castes and tribes; each of them has its own interesting folk dances. These folk dances and music have become an inseparable part of Sikkim Culture.