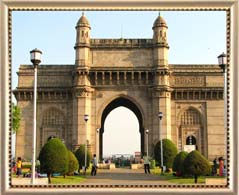 Being the third largest state in India in terms of area, Maharashtra embodies a number of significant towns and cities, the importance of each linked to factors like religion, economy, historicity and so on. The majority population here consists of Hindus and the tradition and culture of Maharashtra reflect that. The state is dotted with numerous temples all over some of which are hundreds of years old. Here's information about important towns and cities in Maharashtra from traveling point of view.
A tour of Maharashtra will remain incomplete if one did not visit the city of dreams i.e. Mumbai. Mumbai is called so because thousands of people from all parts of India migrate here to fulfill their dream of making it big. So be ready to be greeted by a mish mash of sounds, colors and sights here. The seeable places in Mumbai include the flora Fountain near Bombay Fort Area, Old Secretariat, the High court, St Thomas Cathedral, the Prince of Wales Museum, National Gallery of Modern Art, Juhu Beach, etc.
Pune is another important tourist destination in Maharashtra. Pune city is known as the 'Queen of the Deccan' because it is home to many software and IT Companies and also the 'Oxford of the East' because it embodies many reputed educational colleges and institutes. There are a number of places of tourist interest in Pune city such as the Osho Ashram, the Palace at Shaniwar Wada, the Agha Khan Palace, exquisite gardens of Saras Bagh and many more. One can also opt to travel from Pune to the nearby hill stations like Lonavala and Khandala that are gifted with profuse natural beauty.
Ajanta Ellora
The world famous world heritage sites of Ajanta and Ellora are located in the Aurangabad district, which is the pride of Maharashtra state. Any tourist visiting this historic city can look forward to seeing Bibi Ka Maqbara that is also called the Taj of South India. Aurangabad is also known as the City of Caves. Other places one can see include Panchakki, Bhadkal Gate, Daulatabad Fort and so on.
Besides Mumbai, Ajanta and Ellora, Elephanta Caves and popular hill stations such as Lonavala and Khandala, you can also explore various other destinations in Maharashtra by the luxurious Deccan odyssey train. Maharashtra tour packages showcase the various travel destinations in the state of Maharashtra.