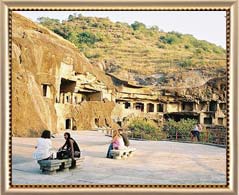 Maharashtra is one of the largest as well as one of the most popular states of India (in terms of tourism). It is home to a large number of attractions, drawn by which people come here on sightseeing tours. The state, with its lush green locales, picturesque hill stations, exotic beaches and rich wildlife, is surely a nature lover's paradise. Add to this, the numerous historical monuments, rock cut caves and religious shrines Maharashtra offers and you have a variety of reasons to plan a holiday trip to the magnificent land. In this article, we have provided you with a list of the attractions that you must visit on a tour of Maharashtra.
Beaches
Maharashtra, one of the biggest states in India, has a long coastline to boast of. This extensive coastline has resulted in the state being blessed with a number of beaches, which are known throughout the world for their white sands, serene locales and stunning environs.
Caves
The amazing caves situated at Maharashtra showcase the age-old culture and rich legacy of the state. Some of these caves, like Elephanta Caves, Karkla Caves and Bhaja Caves, boast of stunning rock cut architecture. On the other hand, those at Ajanta and Ellora have been adorned with beautiful paintings.
Religious Places
Maharashtra has always been one of the favorite destinations of the tourists visiting India. One of the reasons for this huge popularity is that the state is home to a large number of religious places, comprising of temple, mosques, Jyotirlingas, etc.
Hill Stations
Are you tired of toiling away to work every day? Do you need a break from the monotony that has become so widespread in the life of city dwellers? Welcome to the hill stations of Maharashtra! The state is home to the Sahyadri hill ranges and this has resulted in it being gifted with a number of hill resorts.
Monuments
Maharashtra, one of the leading industrial states in India, is known throughout the world for being home to a large number of historical monuments. These monuments today stand as testimony to the rich past which the state boasts of. Most of the famous monuments in Maharashtra are situated in the capital city.
Wildlife
The nature lovers, who come to India to explore its rich wildlife, must make a sojourn at Maharashtra also. The state is virtually a delight for those who love to visit wildlife sanctuaries and national parks and be a witness to nature's beauty. The various protected areas here are home to a wide variety of wildlife.
Forts
For those who are interested in exploring the rich past of Maharashtra, there are no better places to visit than its magnificent forts. Each and every fort in this Indian state has some or the other tales buried within its boundaries, tales of courage, tales of valor, tales of chivalry, and so on.