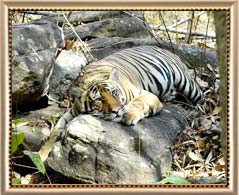 The nature lovers, who come to India to explore its rich wildlife, must make a sojourn at Maharashtra also. The state is virtually a delight for those who love to visit wildlife sanctuaries and national parks and be a witness to nature's beauty. The various protected areas here are home to a wide variety of wildlife, comprising of Tigers, Crocodiles, Bisons, Gawas, Neelgais, Wild Deer, Sambars, etc. Apart from that, they serve as home to numerous birds and are also visited by the most exotic migratory birds every year. The facilities available at the various wildlife sanctuaries and national parks of Maharashtra include jeep rides, night safaris, comfortable accommodation, etc. With the below given information, explore the wildlife of one of the largest states in India.
Chikhaldara Wildlife Sanctuary
Chikhaldara Wildlife Sanctuary is situated in the Amaravati district of Maharashtra and forms one of the popular excursions from the Amravati city. The sanctuary forms a part of the sole hill station of the Vidarbha region, characterized by beautiful lakes, serene lakes and cascading waterfalls.
Dajipur Bison Sanctuary
Dajipur Bison Sanctuary is situated on the border shared by the Kolhapur and Sindhudurg districts of Maharashtra. The wildlife sanctuary derives its name from the splendid animal, Bison, which is found in abundance here. Situated at an altitude of approximately 1200 m above the sea level
Nagzira Wildlife Sanctuary
Nagzira Wildlife Sanctuary is situated at the Tirora Range of Bhandara Forest Division, which comes under the Bhandara District of Maharashtra. It is approximately 130 km to the west of Nagpur and makes one of the popular excursions from the city.
Navegaon National Park
Navegaon National Park is located in the Navegaon area of Maharashtra, at a distance of approximately 150 km from Nagpur city. It is one of the most popular forest reveres of the Vidarbha region of the state and was established in the 18th century.
Pench National Park
Pench National Park lies nestled in the lower southern reaches of the Satpura hills, on the southern boundary of Madhya Pradesh. Earlier a wildlife sanctuary, Pench was given the status of a tiger reserve in the year 1992, when it was included under the umbrella of "Project Tiger".
Katraj Snake Park
Katraj Snake Park is one of the popular conservation parks of India, situated on the Pune-Satara Highway. It is known for housing a significant population of snakes, birds, turtles, reptiles, etc. Situated at a distance of approximately 8 km from the Pune city of Maharashtra, the park was established in 1986.
Sanjay Gandhi National Park
Sanjay Gandhi National Park, also known as the Borivali National Park, is the only national park situated inside the Mumbai city. It was given the status of a national park in the year 1974 and since then, it has been playing home to some of the most exotic species of animals and birds.