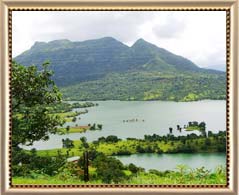 Are you tired of toiling away to work every day? Do you need a break from the monotony that has become so widespread in the life of city dwellers? Welcome to the hill stations of Maharashtra! The state is home to the Sahyadri hill ranges and this has resulted in it being gifted with a number of hill resorts within its boundaries. Some of the places, like Lonavala and Khandala, are also amongst the favorite weekend getaways of the Bollywood celebrities. The plush green surroundings, deep valleys and steep gorges of these hill stations make you fall in love with them. In the following paragraphs, we have provided information on the most popular hill resorts of Maharashtra.
Alibag
Alibag is a very picturesque town, situated along the west coast of India. It is a municipal council that falls under the Konkan region of Maharashtra and is counted amongst the popular weekend getaways from Mumbai. The town forms a part of the Raigad district of Maharashtra.
Mahabaleshwar
Mahabaleshwar is a hill resort in Maharashtra that comes under its Satara district. Perched at an altitude of approximately 1372 m, the hill resort is situated amidst the Sahyadri Hills. You will get an idea about the beauty of the place from the moment you start driving uphill towards it.
Malshej Ghat
Malshej Ghat, that forms a part of the Western Ghats of India, falls under the Pune district of Maharashtra. Perched amongst the ghats, at an altitude of approximately 700 m above sea level, the tourist spot can be visited throughout the year.
Khandala
If you travel to the Khandala hill station of Maharashtra, one thing is for sure - you will fall in love with it at the very first sight. Situated at a distance of approximately 101 km from the Mumbai city of India, the hill station is visited by most of the tourists who visit the Dream City.
Lonavala
Lonavala hill resort lies nestled in the Sahayadri ranges of Maharashtra. It is perched at a height of approximately 625 m and is located at a distance of around 96 km from Mumbai and 62 km Pune.
Matheran
Matheran, a hill station that falls under the Raigarh district of Maharashtra, is a preferred weekend getaway for the Mumbaikars. One of the few places in India that cannot be reached through road transport, it is accessible through a toy train.
Panchgani
Panchgani is a picturesque hill station of India, situated at a distance of approximately 18 km from Mahabaleshwar. It is one of the most preferred weekend destinations for the people living in Mumbai and Pune.
Bhandardara
Are you tired of the ear-splitting noises and maddening rush of the city life? Do you want to escape from the hectic pace of your city and escape to some place where you can forget all the tension and spend sometime in peace? Welcome to Bhandardara!