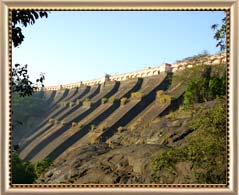 Are you tired of the ear-splitting noises and maddening rush of the city life? Do you want to escape from the hectic pace of your city and escape to some place where you can forget all the tension and spend sometime in peace? Welcome to Bhandardara! Nestled amidst picturesque hills, this hill station is the perfect place to spend time with the family. The lush green hills of the place, combined with the scenic Arthur Lake, will definitely take away your heart. The lake was formed after the waters of the Pravara River were dammed.
The legend revolving around the river goes that there was a very learned sage, known as Agasti Rishi, who sat in uninterrupted meditation for a year. All this while, he survived merely on water and air. Seeing the staunch devotion of the rishi, the Lord himself came down to Earth and blessed him. As the Lord left, a stream of Ganga got left behind. It is said that it is this stream only that is today known as Pravara River. The main attractions of Bhandardara, which have taken it to the travel & tourism map of India, have been listed below.
Major Tourist Atractions
Wilson Dam
Wilson Dam is one of the most popular attractions of the Bhandardara hill station of Maharashtra. The dam was built on the Pravara River, in the year 1910, and resulted in the creation of the Arthur Lake. Perched at an altitude of around 150 meters above sea level, the dam is one of the most popular sites in the region, for going on a picnic.
Umbrella Falls
Umbrella Falls are situated near the Wilson Dam and with their breathtaking splendor, will make you in love with them. However, the only problem is that the falls can be enjoyed only during the monsoon season, when the rain waters increase the water level of the Arthur Lake.
Mount Kalsubai
Mount Kalsubai, at a height of 1,646 meters, is regarded as the highest peak in the Sahyadri Range of Maharashtra. During the time when the Marathas were in power, the peak served as watchtower to foresee any danger. For the adventure enthusiasts, this mount is the perfect place to go on trekking. At the top of the mountain is a small temple that has an ancient well in its backyard. It is said that the water in the well never falls below 3 feet.
Ratangadh Fort
Ratangadh Fort is also counted amongst the popular attractions of Bhandardara hill station. It once served as the fortress of Chhatrapati Shiivaji Maharaj, when it was captured by his army. The adventure lovers as well as nature lovers will find the place bliss, as it has a number of trekking trails and provides amazing views of the valley below.
Amriteshwar Temple
Amriteshwar Temple has been built as per the Hemadpanti architectural style and dates back to 1100 AD. The main attractions of the temple comprise of its intricate carvings.