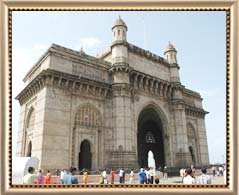 Maharashtra, one of the leading industrial states in India, is known throughout the world for being home to a large number of historical monuments. These monuments today stand as testimony to the rich past which the state boasts of. Most of the famous monuments in Maharashtra are situated in the capital city of Mumbai. However, there are also other cities in the state, like Pune, Nagpur and Aurangabad, which are the proud possessors of some of the most magnificent monuments in the whole country. With the given below information, you will be able to know more about the major monuments of Maharashtra.
Bibi Ka Maqbara
Bibi Ka Maqbara is a magnificent mausoleum, situated at a distance of approximately 5 km from the Aurangabad city of India. It entombs Rabia-ul-Daurani, alias Dilras Banu Begum, the wife of the Mughal Emperor Aurangzeb. The construction work on the mausoleum was started in the year 1651.
Chhatrapati Shivaji Terminus
Chhatrapati Shivaji Terminus is one of the busiest as well as the oldest railway stations in India. Situated at the D.N. Road of Mumbai, the terminus was earlier known by the name of Victoria Terminus.
Churchgate
Churchgate is one of the localities situated in the downtown South Mumbai. The locality takes its name from Churchgate Railway Station, a terminus of the western railway line of Mumbai Suburban Railway of Maharashtra.
Gateway of India
One of the most prized possessions of the country, the Gateway of India is situated on the waterfront in South Mumbai. Anyone coming to Mumbai from this harbor is greeted by the huge monument.
Bombay High Court
Bombay High Court is one of the oldest high courts of India, situated in the Fort area of Mumbai. Its foundation stone was laid down in the year 1871 and it took approximately seven years to complete the construction.
Rajabai Tower
Rajabai Tower is situated within the premises of the Fort campus of the Mumbai University. It is basically a clock tower that rises to a height of 85 m (280 ft) and houses the University Library.
Town Hall Mumbai
One of the most magnificent buildings in the Mumbai city of India, Town Hall initially served as the venue of the Literary Society of Mumbai, when it was shifted here in the year 1830.
University Buildings Mumbai
The University of Mumbai is located on the Bhaurao Patil Road, just next to the High Court of the city. Earlier known as the University of Bombay, it boasts of being accorded a five-star ranking (given by NAAC).
Aga Khan Palace
Aga Khan Palace is one of the most magnificent monuments of Pune, situated in the Yerawada area. The palace dates back to the year 1892 and was constructed under the patronage of Sultan Mohammed Shah, Aga Khan III. There was a noble cause behind its construction.