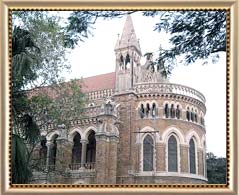 The University of Mumbai is located on the Bhaurao Patil Road, just next to the High Court of the city. Earlier known as the University of Bombay, it boasts of being accorded a five-star ranking (given by NAAC). The University of Bombay is not only known for the excellent programs and brilliant faculty, but also for its exquisite architectural style. The architecture of the University Buildings shows considerable influence of the buildings of the universities of England.
The architect of the University Buildings, which date back to the year 1857, was Sir Gilbert Scott. The funds for the same were not provided by the Government. Infact, the whole construction work was financed by Sir Cowasji Jehangir, a Parsi philanthropist. As a gesture of thanks for this, the Convocation Hall of the University was named after him. University Buildings have been designed as per the Venetian Gothic style of architecture, reminiscent of the colonial times.
One of the major attractions of the University Buildings of Bombay is a huge clock tower, which soars to a height of approximately 260 feet. Adorning its structure are, beautifully carved, oriental figures. During the British Era, the tower used to chime with sixteen different tunes, which were changed four times a day. You should also see the building that houses the library of the university. Both, the library as well as the clock tower, were commissioned in 1880.