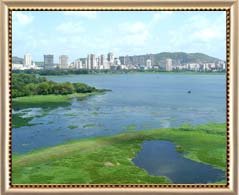 Mumbai City, the city that never sleeps, is visited by a large number of tourists every year. They come from different parts of the world to witness the city in its full glory. Right from historical monuments to beaches to shopping centers to rocking pubs and bars, there is no dearth of tourist attractions in the city. However, roaming around the city and visiting new places every day seems to tire you out. You start looking for someplace where you can sit and relax. Now, what better place to unwind than the serene lakes of Mumbai? They will enchant you with their picturesque surroundings and help you loosen up completely. Given below is more information on the popular lakes in Bombay city of India.
Powai Lake
Powai Lake is situated in the Powai locality, a northern suburb of Mumbai. Apart from being popular for its beauty, the lake is also known for being situated near Institute of Technology Bombay (IIT Bombay) and National Institute of Industrial Engineering (NITIE). One can easily reach here by taking a local train till the Kanjurmarg station and from there, you can board a rickshaw.
Tulsi Lake
Tulsi Lake, situated near the Sanjay Gandhi National Park, holds the distinction of being the second-largest lake in the Mumbai city of Maharashtra. It is a fresh water lake, which serves as the source of water for some of the parts of the city. Located in the northern side of Bombay, the lake has an overflow level of approximately 139.17 m (456.6 feet).
Vihar Lake
Vihar Lake, the largest lake in the Mumbai city, is situated inside the premises of the Sanjay Gandhi National Park. The water needs of the lake are met through the rain water, collected in the catchment area provided by the Powai-Kanheri hill ranges. The lake lies between Tulsi Lake and Powai Lake, the other two lake situated in vicinity.