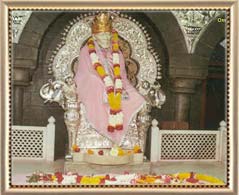 Shirdi, a small hamlet situated in the Ahmednagar district of Maharashtra, is renowned for once being the abode of Shri Sai Baba. Thronged by devotees throughout the year, the town contributed majorly to the travel and tourism industry of India. The exact geographical location of the town is 19°45 North and 74°25 East and it lies at a distance of around 266 km from Mumbai and 207 km from Pune. People come to Shirdi from various corners of the world to pay obeisance at the Shirdi Sai Temple.
Sai Baba was basically a Fakir, who was held in regard and honor by Hindus and Muslims alike. He went to temples as well as mosques and believed in both 'Bhagwan' and 'Allah'. Infact, Sai Baba preached others to forget communal differences and live in harmony with each other. Baba is said to have first come to the village of Shirdi, as a sixteen years old boy. During the time, he took refuge in the Khandoba Temple and started living there. It was then only that a villager (Mahalsapathi) started calling him by the name of Sai (saint).
Sai Baba started calling a village woman (Baijyabai) as his mother. Soon, the villagers started believing him to be an incarnation of God and began worshipping him. However, after sometime, Sai Baba left Shirdi and returned there after a gap of many years. Mahalsapathi, Baijyabai and other villagers recognized him. Since that time and till his death, Sai Baba stayed at Dwarkamai in Shirdi. Throughout his life, he preached the message of unity, communal harmony, brotherhood, Single 'God' and karma.
He helped everyone who came to him in distress. Infact, it is said that he could never ever see any of his devotees in trouble and whenever people called him with true devotion, he came to their rescue and took their pain on himself. The Sai Samadhi Mandir was constructed under the patronage of Shreemant Gopalrao, a Nagpur-based businessman and an ardent devotee of Sai Baba. Today, one can find Sai Baba temples throughout India as well as in the other countries of the world, like Canada, Cuba, etc.