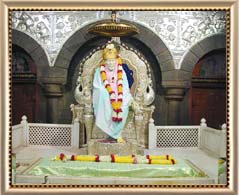 The holy town in Maharashtra, known as Shirdi, is held in great reverence by people. The reason for this is that the town is believed to be the place where Sai Baba lived for a major part of his life and he left for the holy abode from here only. Today, Shirdi houses the Sai Baba Temple, which comprises of a beautiful idol of the Baba, along with his samadhi. Known as Shree Shirdi Sai Mandir, the temple was constructed by Shreemant Gopalrao, a Nagpur-based business who was an ardent devotee of Sai Baba.
Initially, Gopalrao wanted to enshrine an idol of Murlidhar (Shree Krishna) inside the temple. However, Sai Baba himself became Murlidhar and later, his idol was enshrined here. After Baba left for the heavenly abode, his samadhi was built inside the premises of the temple. Shree Saibaba Mandir of Shirdi has been built with stone, while the samadhi has been constructed using white marble. Surrounding the samadhi is a railing, also of white marble and wholly adorned with ornamental decorations.
There are two silver pillars, ornamented with exquisite designs, just in front of the samadhi. Behind it is a life-sized idol of Sai Baba, made of Italian marble, in which he is shown seated on a throne. The beautiful idol was sculpted by late Shri Balaji Vasant and was enshrined inside the temple in October 1954. Providing shade to the statue is an open, silver umbrella. There is an assembly hall in front of the Shri Sai Baba Temple, with a capacity of 600 devotees. Inside this hall are showcased various things that were once used by Sai Baba.
The first floor of the Shirdi Sai Mandir comprises of a number of pictures that depict the life of Baba. The day at the temple starts at around 5:00 am, when the Bhoopali, a morning song, is sung. The temple closes at around 10 in the night, with the singing of the night song, known as Shejarati. Sai Baba Samadhi Mandir is kept open 24 hours, on only three days in the year - Guru Poornima, Dussehra, and Ramnavmi. On every Thursday, a procession, containing Baba's photo is taken from the temple. Dwarkamai, the masjid where Baba stayed during his life in Shirdi, is situated to the right of the entrance of Samadhi Mandir.