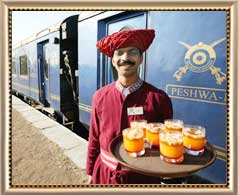 Deccan Odyssey is one of the latest luxury trains of India, which has been modeled after the royal 'Palace on Wheels'. The train was introduced in January 2004 and since then; its popularity has seen the upward trend. A joint venture between the Indian Railways and the Maharashtra Tourism, it offers a seven-day tour to the tourists. The services that are provided onboard come under the aegis of the Taj Group of Hotels.
The aim behind the launch of Deccan Odyssey luxury train was to recreate Maharashtra, as it was, during the rule of the Peshwas. Everything about the train, right from its ambience to the furnishing to the food served onboard, reminds us of the rich historical past of the state. It operates during the months of October to April every year. The tour of Deccan Odyssey starts on a Wednesday and lasts for an entire week.
Not only does it take the tourists to the splendid locales of Maharashtra, but lets them enjoy the pristine beaches of Goa also. The caves of Ajanta and Ellora covered on the train tour are definitely one of its main highlights. Most of the journey is covered during night and the day is reserved for sightseeing the various cities of Maharashtra as well as Goa. Facilities like Presidential Suite Cabins, Spa & Massage treatments, Conference Room, Business Center etc, are provided at the train itself.
Other facilities provided inside the Deccan Odyssey luxury train are two restaurants, a bar, staff accommodation and two generator cars. The price of the tickets is inclusive of all the amenities, except for the drinks and use of the Health Spa. The guests have breakfast as well as dinner onboard, while lunch is provided at the destination. The 21 coaches of the train have 13 saloons in toto, each of them comprising of four compartments and a common lounge.
Deccan Odyssey Facilities
Deccan Odyssey comprises of thirteen fully air conditioned deluxe saloons. Each of these saloons consists of four chambers that are twin bedded and have a common lounge. All the chambers have channel music, intercom, CD/MP3 player, wall to wall carpeting and other amenities.
Deccan Odyssey Tariff
Deccan Odyssey is one of the most impressive luxury trains of India, which takes you across the heart of Maratha land and also lets you explore the picturesque beach of the erstwhile Portuguese colony. The train undertakes a seven day long journey that starts from Mumbai and ends at Mumbai.