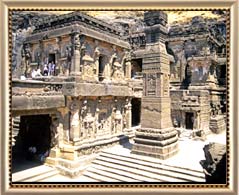 Ellora Caves are situated in Maharashtra, at a distance of approximately 30 km from the city of Aurangabad. Founded in the period between 5th century and 10th century AD, these caves were declared as one of the World Heritage Sites by UNESCO, a number of years back. They are believed to have been built by the rulers of the Rashtrakuta Dynasty and serve as the epitome of rock-cut architecture in India. The total number of caves at Ellora is 34 and they represent the three different religions of the world - Hinduism, Buddhism and Jainism.
Ellora Caves were carved out of the vertical face of the Charanandri hills and comprise of temples as well as monasteries. There are total twelve Buddhist Caves at Ellora (numbered 1 to 12), while the Hindu Caves number seventeen (13 to 29). On the other hand, the Jain Caves excavated at the site are only five in number (numbered 30 to 34). The co-existence of Hindi, Jain and Buddhist Caves, at the same site, serves as a proof of the fact that religious harmony prevailed during that period.
The earliest excavation carried out at the site of Ellora Caves revealed the Cave number twenty nine, known as Dhumar Lena. Then, there is the magnificent Kailasa Temple, dedicated to Lord Shiva, situated inside cave 16. The temple holds the distinction of being the single largest monolithic structure in the whole world and makes one of the major attractions of the Ellora Caves. Whenever you go to Aurangabad, make sure to visit these splendid caves and explore the country's rich legacy.