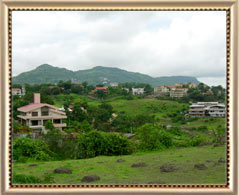 Lonavala hill resort lies nestled in the Sahayadri ranges of Maharashtra. It is perched at a height of approximately 625 m and is located at a distance of around 96 km from Mumbai and 62 km Pune. The place is very popular, not only amongst vacationers, but also amongst adventure seekers. Trekkers especially find Lonavala a very exciting destination, as it has numerous possibilities for long treks. A visit to the hill station also serves as an excellent getaway, away from the dust and pollution of cities.
The hill station of Lonavala derives its name from a Sanskrit word 'Lonavli', which means 'City surrounded by Caves'. As far as the history of the place is concerned, it used to serve as one of the important Buddhist centers in India. Infact, the Bhaja and Karla Caves, situated near Lonavala, have Buddhist origins and date back to somewhere around the 2nd century BC. The hill station also formed as part of the empire of Chattrapati Shivaji. From him, it went, first into the hands of the Peshwa rules, and then, under British rule.
Though the place witnesses pleasant climate almost throughout the year, the best time to pay a visit comprises of the months of October to May. In the monsoon season, the entire Lonavala dons a clean and fresh look. The entire valley gets covered in a green cloak, with the colorful rainbows providing the perfect backdrop. Situated in the Western Ghats of India, Lonavala is also known for its Chikki, a sweet made from jaggery, combined with peanuts or cashewnuts or sesame seeds. Don't forget to buy it when you go there!