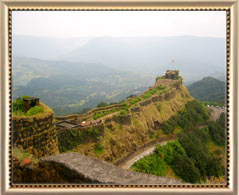 Mahabaleshwar is a hill resort in Maharashtra that comes under its Satara district. Perched at an altitude of approximately 1372 m, the hill resort is situated amidst the Sahyadri Hills. You will get an idea about the beauty of the place from the moment you start driving uphill towards it. The drive to Mahabaleshwar, whether in a car or a bus, readies you for the natural splendor the resort is so full of. Located at a distance of approximately 247 km from Mumbai and 120 km from Pune, it is easily accessible for tourists.
You can easily get State Transport buses, private buses as well as private taxis to reach the hill resort. Matheran has been a preferred holiday destination amongst people since the time of the British Raj. Serving as a proof of this, are the numerous bungalows that dot its landscape, reminding one of the British architecture. However, the time is taking its toll here also and the historical bungalows are being replaced by houses and mansions built as per the modern architectural style.
Mahabaleshwar is full of spots that offer breathtaking view of the valley below. The lush green forests, blooming flowers and splendid ravines make you fall in love with them. The hill resort is also full of cascading waterfalls and gushing springs that seem to be adding to its glory and magnificence. Though you can easily hire vehicles for going around Mahabaleshwar, it is best of you explore it on foot. The beauty that you will come across like this can hardly be seen while in a vehicle. You can also ride on a pony here.
Tourist Attractions
One of the major attractions in Mahabaleshwar is Arthur's Seat Point, a very scenic spot. It is situated near 'Gau-Mukha', believed to be the source of the five Deccan Rivers, namely Krishna, Koyna, Veena, Savitri and Gayatri. The other attractions here include Echo Point, Malkam Point, Tiger Spring, Hunter Point, Castle Rock Point, Savitri Point, Elphiston point, Cannought Peak Point, Wilson Point(Sunrise Point), Bombay Point (Sunset Point)and the Babington Point. The Krishna Valley and Venna Lake situated nearby are also worth having a look at.