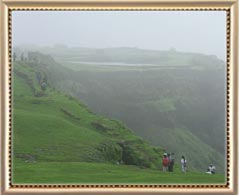 If you travel to the Khandala hill station of Maharashtra, one thing is for sure - you will fall in love with it at the very first sight. Situated at a distance of approximately 101 km from the Mumbai city of India, the hill station is visited by most of the tourists who visit the Dream City. Infact, most of the people who stay in Mumbai also visit this hill resort on weekends, to forget the daily tensions and let their body as well as their mind relax and rejuvenate. Located amidst the Sahayadri ranges of India, Khandala has an altitude of 625 m.
There is little information regarding the history and origin of the hill station. However, it did form a part of the territory of the great Maratha leader Chattrapati Shivaji. He is the one who was responsible for organizing the Maratha clan into a formidable military power. From the Marathas, Khandala went into the hands of the Peshwa rulers. The last power to rule over the hill station was British, who took over it when the Peshwas lost power. Today, Khandala is counted amongst one of the most visited tourist destinations in India.
Khandala has been blessed with nature's beauty in abundance. Once you have been to the place, you will find the memory of the trip etched in your memory for a long time to come. The natural splendor, combined with peaceful surroundings, makes the hill station the perfect holiday spot. The steep valley on its one side and the high hills on the other, make the landscape simply wonderful. Khandala has managed to save itself from the clutches of industrialization & commercialization till date and this is what contributes to its popularity.