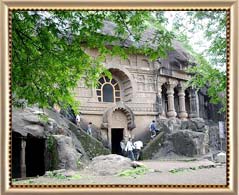 Nashik is one of the main cities of Maharashtra and serves as the administrative headquarters of the district of the same name. The exact geographical location of the city is between 18.33 deg and 20.53 deg North Latitude and between 73.16 deg and 75.16 deg East Longitude. It lies in the northwest part of the state and stands perched at an altitude of around 565 meters above the sea level. Nasik is situated on the banks of the holy Godavari River and has been home to a large number of mythological incidents.
It is said that Lord Rama lives in Panchvati area of Nashik, with his wife Sita and brother Lakshmana, during his years of exile. Another mythological story related to Nashik is that it was around this area only that Agasti Rishi performed his continuous meditation of one year and pleased the Lord. However, the fact that has mainly led to the emergence of the city of the travel and tourism map of India is that it is the main base for visiting Trimbakeshwar, the main one of the twelve Jyotirlingas of India.
The climate of Nashik is very conducive to the growing of grapes as well as making of wines. This, combined with the 'Grape Processing Industry Policy' of the Maharashtra government made the hub of wine industry in India. This has resulted in it being popularly known as the 'Wine Capital of India' or the 'Grape City of India'. The other major attractions of Nasik comprise of the numerous ghats and temples situated within its periphery. The picturesque surroundings and pleasant weather of the city will definitely make your trip a memorable one.