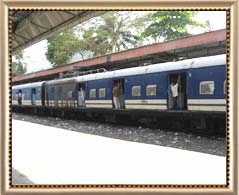 Nashik is one of the major cities of Maharashtra, which is situated in its northwest region. It lies approximately 180 km from Mumbai and 220 km from Pune. It comes under the Nashik district and serves as its administrative headquarters also. The large number of people who visit Nasik every year, whether for business or for tourism purposes, require the information on how to reach there and what modes of transportation are the best for them. Keeping this mind, we have provided a complete article providing information on the means of getting to Nashik. Scroll down to know about traveling to the city.
By Air
Nashik city does not have an airport of its own. The airport that falls nearest from its periphery is the Chhatrapati Shivaji international Airport of Mumbai. It is approximately 180 km from the Nashik city and is serviced by almost all the national as well as international airlines. The next nearest airport is that of Pune, a domestic one.
By Rail
The railway station at Nashik is counted amongst the major stations on the Central Railway. It is serviced by almost all the express and fast trains that go through the region. Reaching Nasik by rail is not at all difficult, since the railway station is connect with all the key cities of Maharashtra as well as India, through direct trains.
By Road
Nashik is located at a distance of approximately 180 km from Mumbai and 220 km from Pune and is easily accessible by road from both of the cities. You can easily find State Transport as well as private buses for all the cities in Maharashtra and the neighboring states from here. Taxis are also easily available.