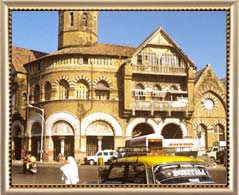 Crawford Market is situated to the north of the Chhatrapati Shivaji Terminus of Mumbai. It lies just opposite the headquarters of Mumbai Police. Officially known as Mahatma Jyotirao Phule Market, Crawford Market is counted amongst the popular shopping areas of the city. The market has been named after Arthur Crawford, the first Municipal Commissioner of Bombay. It houses wholesale fruit, vegetable and poultry market, along with a pet store. If you want to buy imported food items in Mumbai, Crawford Market is the place to be.
It was built in the year 1871, as per the design of William Emerson. When completed, the building was donated to Mumbai by Cowasji Jehangir. In 1882, the market was lit by electricity, becoming the first market in India to receive electricity. The name of the market was changed officially to 'Mahatma Jyotirao Phule Market', after India's independence. Crawford Market has been built as per the Norman and Gothic style of architecture. At a height of 50 feet above its ground is a skylight awning, which brings sunlight into the market.
The exteriors of Crawford Market stand adorned with wall paintings, which depict the images of Indian farmers in wheat fields. On the inside, one finds the stone fountains designed by Lockwood Kipling, father of the acclaimed novelist - Rudyard Kipling. Spread over an area of approximately 22,471 sq m (24,000 sq ft), Crawford Market has been constructed out of coarse buff-colored Kurla stone and red-stone from Bassein. Nestled between the British fort and the local town, this market is the perfect place to buy food items.