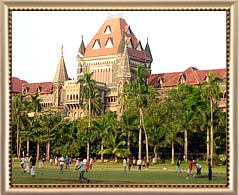 Bombay High Court is one of the oldest high courts of India, situated in the Fort area of Mumbai. Its foundation stone was laid down in the year 1871 and it took approximately seven years to complete the construction. The court building was designed by Col. J.A. Fuller, a British engineer, and inaugurated in August, 1862. The first sitting in the Mumbai High Court took place in January 1879. The court has 'Original Jurisdiction' in Bombay, in addition to the Appellate.
Built as per the Gothic architectural style, the building measures upto 562 feet in length and 189 feet in width. There is a huge tower in the center, flanked by two octagonal towers in the west. The top of the Bombay High Court building stands adorned with the statues of Justice and Mercy. At present, the sanctioned strength of High Court judges is 64. The court adjudicates over both civil and criminal cases, which number to 3.4 lakh annually, on an average.
Apart from the state of Maharashtra, the jurisdiction of the Bombay High Court covers Goa and the Union territories of Daman & Diu and Dadra & Nagar Haveli. There are four benches of the High Court of Bombay - in Mumbai, Aurangabad, Nagpur and Panaji (Goa). Even though the name of 'Bombay city' was changed to 'Mumbai' in 1995, the court remained to be addresses as the 'Bombay High Court'. The current Chief Justice of the court is Mr. Swatanter Kumar.
Aurangbad Bench
Established in 1982, Aurangabad Bench initially had its jurisdiction limited to a few districts of Maharashtra. Later, it was extended to include some more districts, along with Ahmednagar. Presently, Aurangabad Bench exercises its jurisdiction over Aurangabad, Ahmednagar, Dhule, Jalna, Jalgaon,Beed, Parbhani, Latur and Osmanabad.
Nagpur Branch
In January 1936, a full fledged High Court was established at Nagpur, one of the major cities of Madhya Pradesh. Even after the formation of the state of Maharashtra in 1960, a bench of the Bombay High Court kept operating from Nagpur and continues to do so till date. Presently, there are 10 judges and 412 employees at the bench.
Panaji Bench
An Act passed by the Parliament in the year 1982 extended the jurisdiction of the Bombay High Court Bombay to Goa and Daman & Diu and established a permanent bench of the court at Panaji, the capital of Goa.