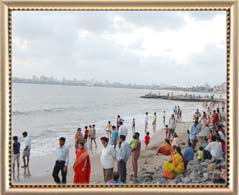 Best Time to Visit:
October to February
Maharashtra is counted amongst those states in India that are visited by tourists in large numbers. Be it the beaches of the state or its revered temple and shrines or its magnificent historical monuments, travelers love coming here and spending their holidays. It is quite obvious that they would like to come at a time when the weather conditions are at their best. From this point of view, the best time to visit Maharashtra comes out to be the period between October and February.
By this time, the summer season is far behind and even monsoons have already poured themselves like cats and dogs. So, you will neither have to worry about the scorching heat of the sun nor about the sticky humidity that is the usual after-effect of rains. By October, the climate is very pleasant, making it the ideal time to visit the state. By the end of November, winters set in and last somewhere around mid-February.
Even after that, the pleasant spell of the weather continues till early March, thus making the period of October to February, the peak season for Maharashtra travel. Unlike the northern parts of India, even during winters, the weather in Maharashtra is chilly, but not extremely cold. So, it is advisable for you to carry light woolens with you. What are you waiting for guys? Just pack your bags with some woolens and get ready to bid adieu to your city for a few days!