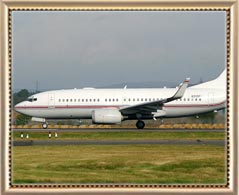 Maharashtra is located in the western part of India and is today, counted amongst the industrially advanced states of the country. Being home to important cities like Mumbai, Pune, Nagpur, etc, the state has gained international recognition. Combine this with the fact that Maharashtra has a number of magnificent tourist attractions to boast of and we get the reason why the state is so popular amongst tourists.
Obviously, the tourists would like to get information on how to reach Maharashtra i.e., the various means of traveling to the state. The location of Maharashtra is such that it is accessible by all the four modes of transportation - air, rail, road and sea. Thus, getting to the state is by no means, a difficult task. To make visitors understand the methods of reaching the state, we have provided complete information on the same, in the lines given below.
By Air
There is basically one major international airport in Maharashtra i.e. the Chhatrapati Shivaji International Airport of Mumbai. Apart from that, the city also has a domestic airport - Santa Cruz Domestic Airport. The airports at Nagpur and Pune also operate a few international flights, apart from the usual domestic ones. The cities of Kolhapur and Aurangabad also have a domestic airport of their own.
By Rail
The largest as well as the most important railway station of Maharashtra is situated in Mumbai and is known as Chhatrapati Shivaji Terminus. From there, you can get trains to almost every part of India. Apart from that, there are railway stations in Pune, Nashik, Nagpur, Kolhapur, Aurangabad, AMravati, etc. In short, Maharashtra is well connected with the other states via railways.
By Road
There are a number of National Highways and State Highways crisscrossing Maharashtra, which make it easier for any visitor to visit the state by road. Infact, through these highways, you can easily approach the state from any and every part of the country. Apart from that, you can easily get buses and taxis from the numerous cities in Maharashtra to travel within as well as outside the state.
By Sea
Since a number of cities in Maharashtra are situated on sea banks, you can also go there via ship from the neighboring countries. Apart from the international naval port at Mumbai, there are a number of other minor ports in the state. Thus, reaching Maharashtra by presents no problems for the tourists.