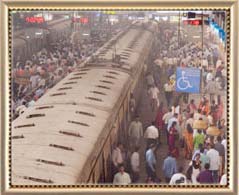 The main purpose of going on a vacation to any place is to roam around, go on sightseeing trips and have fun. However, for moving around in a state, or for that matter even a city, you need to know about the modes of local transport that are available there. Unless and until you are planning to drive down there in your car, you are bound to become dependent on the public transportation. At the same time, moving around this way helps in knowing much more about the place, its people as well as its culture. Keeping this in mind, we have provided information on the forms of local transportation that are available within the state.
Trains
There is a railway junction, whether small or large, in the majority of cities in Maharashtra. Through these trains, you can easily travel from one city to the other. Apart from that, some of the cities in Maharashtra, like Mumbai, have their own suburban railway network, through which people can move from one locality to the other. However, you will have to make yourself used to the heavy rush at railway stations.
Buses
State-transport as well as private buses run throughout the length and breadth of Maharashtra. You can get local buses, semi-deluxe buses, deluxe buses, and so on, for traveling to one city from the other. Local buses are also available for covering short distances within the city.
Taxis
Taxis are easily available in Maharashtra, for going from one city to the other as well as for traveling within the city. However, make sure to either go by meter or to fix the fare in advance. In the latter case, bargaining will help you reach a justified cost.
Auto Rickshaws
Auto Rickshaws are the perfect for moving over short distances, in the city itself. Infact, if you are in group of three-four, it is much better to hire an auto rickshaw. Most of the auto rickshaws in Maharashtra go by meter. However, if they are not willing to go by meter, ask the fare in advance and make sure to bargain a little.