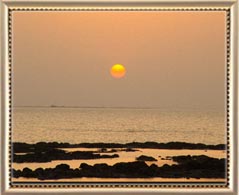 Main Seasons: Summers, Winters and Monsoons
Maharashtra is situated in the western part of India and this location has accorded the state with a tropical monsoon type of climate. Thus, the main season experienced by it comprise of hot, rainy and cold i.e. summer season, monsoon season and winter season. The tropical conditions that are prevalent all over Maharashtra have a similar effect on its hill stations also. Though they are colder than the other cities in the state, the winters there are not extremely cold (like the hill stations in northern part of India). In the following lines, we have provided complete information on the weather of Maharashtra.
Summers
Summer season in Maharashtra sets somewhere around the month of March and till May, the temperatures are at their highest. However, the occasional thunderstorms are what bring relief from the scorching sun. During this time, the average temperature remains in the range of 22 deg C to 40 deg C.
Monsoon
The areas in and around Maharashtra usually experience the onset of monsoon before the northern cities. By the first week of June, monsoon arrives in the city and starts retreating somewhere in the month of September. However, the maximum rainfall is received by the state in July, followed by August.
Winters
In the month of October, the weather in Maharashtra is quite pleasant. It is around November that the chill starts setting in. Till February, the state experiences winter season, characterized by clear skies, gentle breezes and pleasant weather. The usual temperature around this time is somewhere between 12 deg C to 25 deg C.
Rainfall
Maharashtra experiences a decent spell of rainfall every year. The maximum rain is received by Konkan, Sahyadrian and eastern Vidarbha region, while the central region receives less rainfall. For example - the annual average rainfall in Thane, Raigad, Ratnagiri and Sindhudurg districts is around 200cm. On the other hand, cities like Nasik, Pune, Ahmednagar, Dhule, Jalgaon, Satara, Sangli, Solapur and parts of Kolhapur receive less than 50 cm rainfall every year.