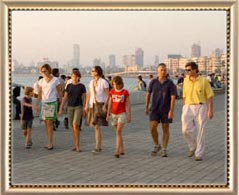 Maharashtra experiences a tropical monsoon climate, in which there are three seasons - summers, winters and monsoons. If you want to known what clothes to wear in the state, the first thing that you will have to keep in mind is the weather. Thereafter, you will have to check out the particular city in Maharashtra that you will be visiting. Only after defining both the aspects will you able to decide how to dress up in Maharashtra.
In case you are going to Maharashtra in summers, remember that the mercury touches 40 deg C quite easily. Therefore, you are required to carry light cotton clothing with you. Synthetic and clingy fabrics are a strict no-no. By any chance if you happen to visit the state in monsoons, remember that most of the cities here experience high levels of humidity during this time. Thus, it is advisable to avoid figure hugging clothes and better to stick to loose cottons.
Winters in Maharashtra are chilly, but not freezing cold. However, you must carry light woolen clothing with you, including sweaters, shawls, socks, etc. Now, let's come to the place you are visiting. In bigger cities, like Mumbai and Pune, women can easily wear figure hugging and short, revealing clothes, especially while visiting pubs and discothèques. However, in small cities like Amravati, they should stick to a bit loose and completely covering clothes.
This is because too tight or too revealing clothes might hurt the sensibilities of the people who live there. Care should be taken while dressing up for places like temples, gurdwaras, etc. If you can wear Indian suits to such places, nothing like it! Otherwise, stick to jeans and t-shirts. You can also wear ankle length skirts, but no shorts please (even guys). Just keep these small points in mind and we can assure you that your trip will be as smooth as possible.