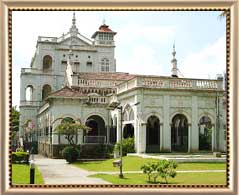 Aga Khan Palace is one of the most magnificent monuments of Pune, situated in the Yerawada area. The palace dates back to the year 1892 and was constructed under the patronage of Sultan Mohammed Shah, Aga Khan III. There was a noble cause behind its construction. In the decade around 1890s, the area around Pune was hit by a severe famine. Sultan Mohammed Shah ordered the construction of this palace, in order to provide employment to the drought-hit people.
In the year 1969, Prince Karim El Husseni, Aga Khan IV, donated Agakhan Palace to the Government of India. He intended it to be used by the Government in honor of Mahatma Gandhi and his philosophy. Today, the palace houses the samadhis of Kasturba Gandhi (wife of Mahatma Gandhi) and Mahadev Desai (a long time aid of Mahatma Gandhi). It is because of the reason that both the individuals left for the holy abode, in the palace itself. After their death, Charles Correa got their samadhis built in the palace grounds.
Even the ashes of Mahatma Gandhi have been interred at Aga Khan Palace. Since the palace is so closely associated with Mahatma Gandhi, it is often known by the name of Gandhi National Memorial also. It serves as the venue of exhibitions, depicting the life and career of Mahatma Gandhi, on a frequent basis. Agakhan Palace was also one of the shooting locales of the famous movie 'Gandhi', based on the life of Bapu. A museum is also situated inside the premises of the palace.
Depicted inside the museum, is a rich and a very wide collection of pictures, which represent almost each and every significant happening in the life of Mahatma Gandhi. One can also see a number of items displayed here, which were used by Gandhji when he was alive. These include his utensils, clothes, mala, chappals (slippers), etc. The management of the museum, samadhis and campus of the Agakhan Palace is being looked after the Gandhi Memorial Society, since the year 1980.