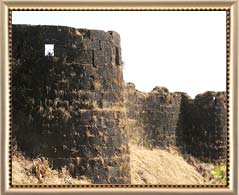 Adding to the attraction of the Pune city is the Sinhagad Fort, which lies in the vicinity of the city. The fort stands perched on a hill, at an altitude of approximately 700 m above the landscape that surrounds it. The height at which the fort stands has resulted in its being a very popular trekking destination amongst the adventure enthusiasts. Amongst the numerous treks that go from the Sinhagad Fort, the most famous is the one that goes from Katraj to Sinhagad.
Since the fort is approximately 25 from the main city of Pune, it is also quite popular as a picnic spot. Once known throughout the state for its magnificent architecture, Sinhagad Fort has been ravaged by the travails of time and today stands mostly in ruins. It has been witness to a number of battles, of which the most memorable one is that in which Tanaji Malusare, a general in Shivaji's army, recaptured the fort.
Inside the premises of the Sinhagad Fort are the samadhis of Tanaji Malusare, and Rajaram (younger son of Shivaji). Situated atop the fort are the bungalows of Lokmanya Tilak, a great freedom fighter, and G.D. Madgulkarm, a famous Marathi Poet. Sinhagad Fort is one of the places used by National Defence Academy for training purposes. Tourists visiting the Pune city make sure to see this amazing fort atleast once.