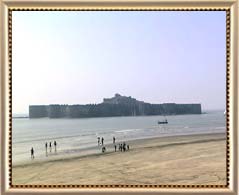 Murud Janjira Beach, being located around 190 km from the Pune city of India, forms one of its most popular attractions. The beach is situated near the Janjira Fort, an impregnable fortress that refused to surrender before the enemy forces for as many as 350 years. It is situated at the foot of the hills and has managed to retain its natural beauty and splendor, along with the serenity that has resulted in it being one of the most popular tourist sojourns.
The calm and composed atmosphere of the Murad Janjira Beach is what lures the city dwellers to get away from the tensions and monotony of daily life and take a break here. One visit to the beach and it is sure that you will feel refreshed, in both mind and spirit. The small Murud Village, situated near the beach, only seems to add to the simple and tranquil surroundings, which are disturbed only by the sound of sea waves.
The atmosphere there is so calm that you can even distinctly hear the chirping of birds from far away. Since Murud Janjira Beach is not unusually crowded, you can easily laze around as well as have long walks on its sandy shores. After you have rested yourself completely, move on and explore the rich surrounds of the beach. Dattatraya Temple, Nandgaon Beach and Kashid Beach are some of the places near the beach that are definitely worth exploring.