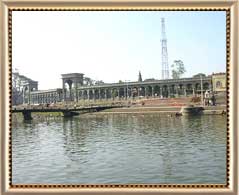 Alandi is a small city, situated in the Pune district of Maharashtra. It lies at a distance of approximately 25 km from the Pune city. The town is mainly famous for being home to the samadhi of Sant Dnyaneshwar. Dnyaneshwar was a very popular saint of Maharashtra, who spent some of the years of his life in the Alandi town also. It is said that he was the one who inspired the people of the state to worship Lord Panduranga.
The samadhi of Sant Dnyaneshwar is situated in a temple at Alandi, which is dedicated to the sant only. Devotees come from various parts of India to pay homage to the saint. Apart from being revered by the local people of the state, the temple also boasts of picturesque beauty. Infact, the temple stands encircled amidst blooming greens and is a sight to behold. The ghat serving as the backdrop of the Sant Dnyaneshwar Temple adds to its splendor.
Apart from the being home to the temple, Alandi city also serves as the venue of the Palakhi festival, celebrated every year in the month of Ashadh. People from all over the state as well as the country come to take part in this festival. The other tourist attractions of Alandi city, situated on the banks of Indrayani River, comprise of Muktai temple, Ram temple, Krishna Temple, Math of Swami Hariharendra, Vitthal-Rakhumai temple, etc. For those who are religiously inclined, Alandi is definitely a place worth visiting.