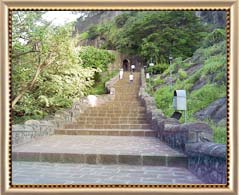 Shivneri Fort is one of the most magnificent as well as historically rich forts of India. It is situated at a distance of approximately 90 km from the Pune city of Maharashtra. The fort dates back to the time period when Shivaji was not even born yet. Shivneri Fort was built under the aegis of Sahaji, the father of Shivaji, who wanted a strong fortification that could protect his family from the enemies. Infact, Jijabai (Shivaji's mother) spent the days of her pregnancy here and it was here only that Shivaji Maharaj was born, in the year 1627.
Almost the entire childhood of Shivaji was spent playing inside the compound of the fort. He received most of his basic education here only and the lessons he learnt here were responsible, to quite an extent, in shaping his personality as a great ruler. Apart from its connection with Chhatrapati Shivaji, the fort is also quite popular for its magnificent architecture. To make the Shivneri Fort enemy proof, Sahaji ordered the construction of seven massive gates. One has to go through all the seven to gain entrance into the fort.
Badami Talav, a small pond situated in the heart of the fort, is one of its most endearing features. In the vicinity of the pond is a magnificent statue of Jijabai, along with her son Shivaji. There are a number of structures near the Shivneri Fort that are worth having a look at. Amongst them is a temple dedicated to Goddess Shivani. The local people of the area believe that Shivaji was named so, after the Goddess only. Then, there are the splendid Nane Ghat and the Jivdhan Fort. So, whenever you visit Pune, make sure to pay a visit to the historical fort also.