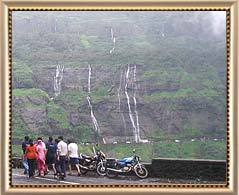 Malshej Ghat is one of the most popular weekend getaways, situated amidst the Sahyadri Hills of India. Since it falls on the outskirts of the Pune city, it is visited by the locals of the city as well as the tourists who come here for spending their holidays. The ghat is counted amongst the upcoming hill stations in Maharashtra and is renowned for its exceptionally beautiful locales. The cascading waterfalls in Malshej Ghat almost make you fall in love with them.
And the best part is that there are a number of waterfalls in the ghat and all of them are definitely worth having a look at. One of the best times to visit Malshej Ghat is during the monsoon season. During this time, the entire place gets covered with dark clouds and heavy fog, making it the perfect romantic place for couples. The hill station stands encircled by thick forests, which serves as home to a wide variety of Flora and Fauna.
Some of the animals found in the vicinity of Malshej Ghat are tigers, leopards, rabbits, peacocks, etc. The hill station is also quite popular for housing Khireshwar, popularly known as a bird watcher's paradise. At Khireshwar, you can get to see quails, rails, crakes, flamingos, cuckoos, etc. The place also serves as a popular haunt of the exotic Hemingo birds, especially during the months of July to September.
Malshej Ghat is also a very popular trekking destination near Pune. The endless span of undulating hills provides a number of trekking trails to the adventure enthusiasts. One such trail is the one that leads to Harishchandragadh Fort, situated near Malshej Ghat. Since the hill station is not visited by too many tourists, it retains its calm. If you are looking for some peace and solitude, away from the hectic and frenzied pace of city life, then Malshej Ghat is the place for you!