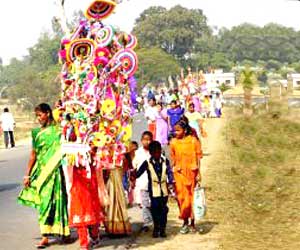 West Bengal is a land of rich culture and lots of festivity. Almost every region in the state has a specific folk dance and music attached to it. These folk traditions are basically related to some specific season of festival. The Tusu Dance of Birbhum district is one of them. It is basically performed in the month of Pausa, during the Gregorian months of December and January. The dance is basically related to the Tusu Parab (Tusu Festival), which is celebrated on the day of Makar Sankranti.
Tusu dance is basically the celebration of the arrival of an auspicious and pleasant season. Groups of girls from the district go to the riverside every evening, in the Pausa month, to sing and perform. On the day of Makar Sankranti, they gather together at the riverside, to worship the clay and cowdung idol of Goddess Tusu. They sing and perform dances in front of the deity, asking for a good groom. The dance is very elegant and graceful and creates a wonderful atmosphere, when accompanied by a melodious song from the rich collection of Tusu music.
The entire Tusu dance has traditional-folk essence attached to it. The dance is performed by men as well, when it is known as ' Bhaduriya Saila'. In Tusu dance man move in clockwise direction and the women in anti-clockwise direction. It is basically performed by unmarried girls and boys and at some places, it is mandatory to be performed by a virgin girl. It is customary for the dancers to take a ceremonial bath in the river before this performance. The dance is performed in groups and is simple in nature, without any accompanying musical instrument.