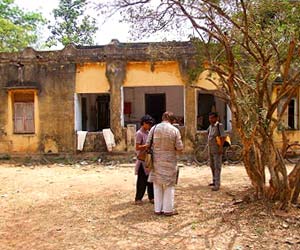 Known as Kolkata's quiet sojourn, Shantiniketan is a small town near Bolpur in the Birbhum district of West Bengal. Calm and peaceful, the place was once called Bhubandanga after a local dacoit. Maharishi Debendranath Tagore renamed it as Shantiniketan, meaning abode (niketan) of peace (shanty). Initially a university founded by Nobel Laureate Rabindranath Tagore, the place has now become a popular getaway. The university boasts of great illustrious students including Indira Gandhi, Satyajit Ray, Abdul Ghani Khan, Jahar Dasgupta and Nobel Laureate Amartya Sen. The University itself has been embedded with literary classics and historical background amidst its vast campus grounds, open air-classes and tranquil atmosphere.
Not just home to some best colleges and centers of the world, Shantiniketan is also renowned as one of the coveted tourist places in West Bengal. The pleasant weather at Shantiniketan attracts tourists across the year, with major number gathering around the famous Vasant Utsav, to mark the festival of Holi, with the onset of spring. You can find some splendid sculptures, murals, frescoes and paintings of Rabindranath, Nandlal Bose, Ramkinkar, Bindobehari Mukhopadhyaya and others beautifying the university campus. Apart from the campus highlights, there are numerous parks, architectural buildings, museums, shrines and birth places to keep visitors glued to Shantiniketan.
How to Reach Shantiniketan
More than a learning center, Shantiniketan has fast become a popular getaway from Kolkata. With the number of curious visitors increasing each year, Shantiniketan truly proves that it is place not to be missed out. The place has been primarily known for the Viswabharati University, founded by Nobel Laureate Rabindranath Tagore. The vast lush green campus grounds, open-air classes and the peaceful environment are just few reasons to attract enough visitors towards it.
Things to Do in Shantiniketan
Spread across the lush green open grounds of the university, Shantiniketan has gone ahead than its learning center image. Its rapid popularity has more visitors attracting towards it, making it a perfect destination for weekend getaway. Boasting of being the habitat of the Nobel Laureate Rabindranath Tagore, the Vishwabharati University has several colleges and institutes, apart from two schools for kindergarten, primary, secondary and higher secondary education.
Tourist Attractions
Flaunting the historical importance of Rabindranath Tagore, Shantiniketan is situated near Bolpur in the Birbhum district of West Bengal around 180 km north of Kolkata. The town has gained enormous popularity due to Tagore who has penned numerous literary classics on the grounds of this university.
Shantiniketan Weather
A place where cultures of the East and West meet and mingle, Shantiniketan is a university town situated on the outskirts of Kolkata. Originally established as an ashram and then an open-air school, Shantiniketan has gone ahead from its learning center image.