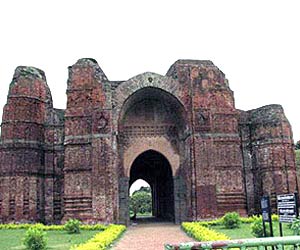 Malda district has always been an important seat of power in West Bengal. The existence of this historic location can be traced back to long back, at least to the existence of Mauryan Empire. Though the cities of Gaur and Pandura had always kept the district in the list of prominent locations of Bengal, due to the concentration of power at these two blocks, Malda city came into existence only after the arrival of British troops in this area, in 18th century. The chronological evidences of last 1500 years of this area are preserved in the museum of Malda city. Let us explore the history and origin of Malda in detail.
Malda District
The history of Malda district basically tells the tales associated with the ruined city of Gaur and Pandua. The ancient city of Gaur is said to be in existence since an untraceable period. The first ever record of the city is found in the Hindu Puranic texts. The historical records of the city are however available from 500 BC, from the phase of Mauryan reign. Archeological findings also figure out that that the entire region of Pandua, then known as Pundrabardhana, and Gaur had also been a part of Gupta Empire.
The Guptas were succeeded by the king of Karnasubarna in 700 A.D. His rule here lasted for almost thirty years. The reign of ended with that of the Palas, who extensively promoted Buddhism in the region. Palas were followed by the Hindu Sena dynasty. The Sena Dynasty ruled over Bengal till 1204 AD. The rule of Senas ended here after the Mughals and Afghans invaded and captured Bengal. The traces of this Muslim dynasty rule of Mughals and Afghans can be observed in the ruins and remains of their great architectures.
After the Mughals came to power, they shifted their headquarters to Pandua and they left a scene of ransack in Gaur. However, they again came back to Gaur in 1453, after deserting Pandua. This was basically due to the change of the course of the nearby river. In 1575, under the rule of Akbar, the city suffered a severe plague and was completely abandoned. These two cities, since then, lie in a heap of ruins. However, the surroundings, like Malda and other cities, gradually developed with the arrival of British in the area.
Malda City
The current city of Malda is situated between the historical cities of Gaur and Pandua. However, this city actually came in existence in the middle of 18th century, when the British established a factory here. The place was then known as Engelzavad i.e. established by the British rulers. The proper organization of this city began with the early 19th century. In 1813, a Joint Magistrate and Deputy Collector were appointed to the city and in 1832, an official treasury was opened under the British rule. The city later came to be known as English Bazar and then was renamed as Malda.