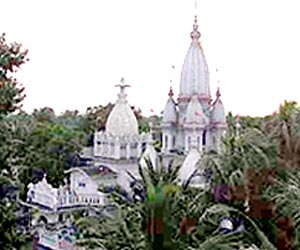 Nabadwip, more than being famous as a tourist destination, is known for its numerous religious expeditions. The entire city is full of temples - small and big, old and new. People following different sects, like Shaktas, Vaishnavs and Shivaites, often come to this city for religious purposes. In the month of November, which is the month of Agharayan according to the Bengali calendar, the city gets into extremely festive and celebration mood, with the Rash Festival. in this article, we will let you explore all the major tourist places in Navadwip.
Places to See in Nabadwip
Sonar Gouranga Temple
Sonar Gouranga temple is one of the most famous temples in Nawadwip. It is situated besides Sribas Angan and lies opposite to Sri Samajbari Asram. The temple is famous for the Golden Shrine of great social reformer and saint, Chaitanya Mahaprabhu. His footwear has been kept here, in a glass case. It is said that Pratap Chandra Goswami, a follower of Chaitanya Mahaprabhu, constructed this temple. It is now a seat of Gauria Vaishnav.
Sri Chaitanya Saraswat Math
Sri Chaitanya Saraswat Math is a holy temple founded by the followers of Chaitanya Mahaprabhu. This temple was established in 1941, by Om Vishnupad Sri Srila Bhakti Rakshak Sridhar Maharaj, a disciple of Sri Chaitanya Mahaprabhu. The headquarters of this temple was established in Nawadwip and after that, many branches of this temple have been opened in other parts of India as well as abroad.
Dwadas Shib Mandir
Dwadas Shib Mandir is another popular temple in Nawadwip. The presiding deity of this temple is Lord Shiva. This temple was built in 1835. It is basically famous for its exquisite floral designs. It also attracts a large number of pilgrims, especially during Mahashivratri.