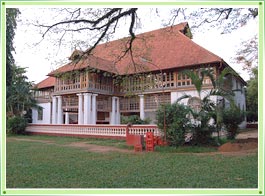 Bolghatty Palace is a beautiful monument located on the Bolghatty Island just off the coast of Cochin. It is easily accessible with the help of the ferry services that are provided for tourists. The Cochin Bolghatty Palace is now converted into a heritage hotel and has a beautiful golf course amidst stunning and serene surroundings. The Bolghatty Palace of Kochi was once the home of the British Governors. It was built in 1744 by the Dutch and is still preserved in its best form and maintained by the Kerala Tourism Development Corporation.
This prestigious heritage hotel is located amongst lush green tropical environs, complete with fantastic scenery of the backwaters. The place has a quiet laid-back charm about it. The palace building has two stories that is tastefully done up and decorated. The bedchambers are well-furnished with attached bathrooms with every room. There are different suites to cater to different needs and tastes of people and offers deluxe and luxury accommodation along with honeymoon and separate cottages. Visitors can relax in calm and quiet environment and also amuse themselves with modern facilities like a mini golf course, swimming pool, Ayurvedic center and daily Kathakali performances.
How to Reach Bolghatty Palace, Cochin
By Air
The Cochin International Airport is around 22 kilometers away from this place.
By Rail/Train
Cochin has three main junctions at Cochin Harbor, Ernakulam Town and Ernakulam junction. One can hire local transport from any of these places and reach Bolghatty Island.
By Road
Cochin is well connected with Kerala and the rest of the country through a wide network of roads and Bolghatty can be easily reached once you reach Cochin.