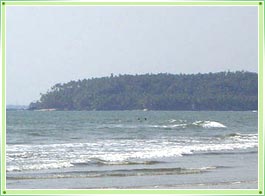 Muzhappilangad beach of Kannur is one of the longest beaches of Kerala. It is situated at a distance of 15 kilometers from Kannur. The Muzhapilangad beach is the only drive-in beach of India. This is what makes it unique among all other beaches of not only Kerala but also India. The long stretch, which measures around 4 kilometers, is the ideal place to laze around or go for a drive. The beach is clean and well maintained and is one of the best laces to hang around when in Kannur.
The shores of the Muzhappilangad beach are lined with black boulders, which protects the shores from the lashing waves and also make a natural shallow place. One can easily swim in this natural shallow pool of water without having to fear the powerful currents. One can soak up the sun while lying lazily on the rocks. It is a beach lover's paradise. The calm yet enthralling ambience of the beach is what makes it a popular getaway for tourists.
The lovely Dharmadam Island is located over here, just a few meters from the shore. The island and the beach look absolutely beautiful and should be visited if you want to experience the true beauty of untouched nature.
How to Reach Muzhappilangad Beach
By Air
The Karipur airport is located at a distance of 95 kilometers and is the nearest airport.
By Rail/ Train
The Kannur railway station is at a distance of 15 kilometers from the beach while the Thalasseri railway station is located at a distance of 8 kilometers.
By Roads
The beach is easily accessible from anywhere in Kannur, as it is well connected to Kerala and Kannur by a wide network of roads.