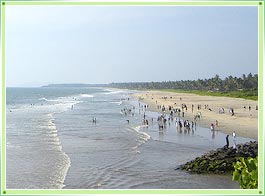 One of the most beautiful beaches of Kerala, Payyambalam beach of Kannur is a vast stretch of golden sands dotted with coconut trees. This secluded beach is an ideal getaway for you if you want to spend a relaxed and laidback evening amidst calm surroundings. Read on further about Payyambalam beach of Kannur and visit it to experience true peace of mind.
The place is also a famous beach resort that is the perfect getaway for anyone who wants to spend a day or two in a calm environment. The beach is a beautiful place and many popular Indian movies have been shot over here. The beach has a massive sculpture of a mother and child that adds to the beauty of the beach. It is a popular hang out among young and old alike. The concerned authorities maintain the beach very nicely and take efforts to keep it neat and clean. It is definitely worth the visit if you go to Kannur.
How to Reach Payyambalam Beach
By Air
The nearest airport is Karipur International Airport, located at a distance of 93 kilometers from the beach.
By Rail
The Kannur railway station is located at a distance of 2 kilometers from the beach.
By Road
The beach is well connected by a wide network of roads and is easily accessible from anywhere in Kerala.