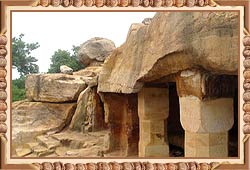 Known as the commercial capital of Orissa, Cuttack is situated at a distance of approximately 30 km to the north of Bhubaneswar. It lies at the conjuncture of river Mahanadi and river Kathjuri and dates back to the 10th century. Founded by Nripati Keshari, the city of Cuttack is one of the preferred destinations for the tourists visiting Orissa. Apart from the numerous tourists places within the city, there are a number of excursions near it that are definitely worth a visit. Given below is more information on Cuttack excursions.
Lalitagiri
Known for attracting hordes of pilgrims every year, Lalitagiri is a popular Buddhist pilgrimage in India. It is located in the state of Orissa, around 90 kilometers from the capital city Bhubaneshwar. Lalitagiri looks like a tiny ancient village, which has a lot of greenery and open spaces. Tourism in Lalitgiri is gaining much popularity due to the scenic locales and the magnificent Stupas and ancient sculptures that this site boasts of.
Udaigiri
Udaigiri, along with Ratnagiri and Lalitagiri, forms the Buddhist Triangle in India. The city is situated in the state of Orissa and holds the distinction of being its largest Buddhist complex. Excavations are being carried out at the site by the Archaeological Survey of India, since quite a long time. More
Ratnagiri
Ratnagiri is a splendid Buddhist site that comes under the Jajpur district of Orissa. It is situated at a distance of approximately 100 km from Bhubaneswar and 70 km from Cuttack. The site, situated on a small hill, stands surrounded by rivers from all the sides. More
Dhabaleshwar
Dhabaleshwar is a beautiful island located at a distance of 37 kms from the Cuttack city. One of its major attractions is a temple dedicated to Lord Shiva, embellished with carvings that can be traced back to 10th and 11th century.
Kendrapara
Kendrapara is a small town, which is famous for a temple devoted to Lord Baladeva. Another major tourist attraction of this small town is the Car Festival that is celebrated every year with great pomp and show.
Ansupa
Located at a distance of 70 kms from Cuttack, Ansupa is popular for its tranquil lake. The flowing waters, lush green bamboo trees and serenity of the place serve as the perfect respite from the hectic everyday life. The long stretch of the lake enables you to take relaxing walks. In case you don't want to go in for boating, just laze around or indulge in bird watching.
Paradeep
Paradeep is one of the major seaports of Orissa, which lies 94 km away from the Cuttack city. From the tourists point of view, the major attraction of the city is its beautiful beach, where one can spend hours playing, swimming or just lazing around, soaking the sun.
Jajpur
Jajpur town lies approximately 92 km from Cuttack. It is popular as the abode of Goddess Viraja, an incarnation of Goddess Durga, and is also known by the name of 'Vaithrani Tirtha'. Devotees come here in large numbers, mainly during Pitripaksha, to offer Pinda (food for spirits) to seek the eternal salvation of their ancestors. The town also boasts of a number of shrines, like that of Shweta Varaha (White Boar incarnation of Lord Vishnu) and Goddess Parvati.