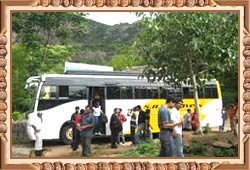 Cuttack is one of the oldest cities in Orissa and is visited by a large number of tourists every year. The city once served as the capital of Orissa and even today, it is the administrative headquarters of its district. It lies at the tip of the delta formed by the Mahanadi River in the North and Kathajodi River in the South. The first information that tourists coming to Cuttack seek is 'how to reach' there. Reaching the city is very easy, as it is well connected by all the major modes of transport. In the following, we have provided travel information to help tourists in getting to Cuttack.
By Air
Biju Patnaik Airport of Bhubaneswar is the nearest as well the most convenient entry point for people traveling to Cuttack. There are a number of flights, operated by the Indian airlines as well as private operators, connecting the city with other major cities of India, like Kolkata, Delhi, Chennai, Mumbai, Hyderabad and Visakhapatnam.
By Rail/Train
There is a railway station at Cuttack, which lies on the Kolkata-Chennai main railway line. Plenty of fast trains operate from here, connecting the city with the other prominent cities within and outside Orissa. Thus, reaching Cuttack via train is a very convenient as well as a very reasonable option.
By Road
There is a good network of National Highway connecting Cuttack with the rest of the country. One can easily get buses as well as taxis for traveling to places in and around Orissa.